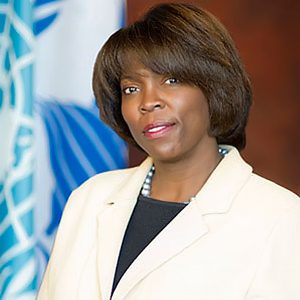 American Women for International Understanding (AWIU) proudly announces the selection of Hon. Ertharin Cousin, Global Food and Agriculture Expert as the 2019 recipient of the prestigious AWIU Internationalism Award. Former Ambassador Ertharin Cousin is a Distinguished Fellow of Global Agriculture at the Chicago Council on Global Affairs. Also, Hon. Cousin holds the following positions at Stanford University: Frank E. and Arthur W. Payne Distinguished Lecturer at the Freeman Spogli Institute for International Studies, Distinguished Fellow at the Center on Food Security and the Environment, and Distinguished Fellow at the Center on Democracy, Development and the Rule of Law.
With over 30 years of national and international leadership and experience addressing hunger and food security strategies, Cousin has exemplified a life-long dedication and commitment to the disparities of hunger. She previously served as executive director of the World Food Programme from 2012 until 2017. In this role, Cousin led the world's largest humanitarian organization with 14,000 staff serving 80 million vulnerable people across 75 countries.
Before her global hunger work, Cousin helped lead the US domestic fight to end hunger while serving as executive vice president and chief operating officer of America's Second Harvest (now Feeding America). In this role, Cousin led the operations, budgeting, and expenditures as well as the human resources, IT, and training activities of this national confederation of 200 food banks across America serving over 50,000,000 meals per year. In 2009, Cousin was nominated by the president and confirmed by the Senate as the US ambassador to the UN Agencies for Food and Agriculture in Rome. A Chicago native, Cousin, is a graduate of the University of Illinois at Chicago; the University of Georgia Law School, and the University of Chicago Executive Management Finance for Non-Financial Executives program. Cousin has received honorary doctorate degrees from universities around the globe. She has been listed numerous times on the Forbes "100 Most Powerful Women" list, as the Fortune "Most Powerful Woman in Food and Drink," on TIME's "100 Most Influential People" list, and as one of the "500 Most Powerful People on the Planet" by Foreign Policy magazine. She maintains relationships with global government, business, and community leaders. She has published numerous articles regarding agriculture, food security, and nutrition.
The AWIU Internationalism Award is bestowed upon individuals who have exhibited outstanding work and commitment which set the individuals apart by every standard. The candidates address the concerns and issues facing women worldwide. Past recipients are: Anita DeFranz, Olympian and member of the International Olympic Committee; Harriet Mayor Fulbright, President of the J. William and Harriet Fulbright Center; Laurie Garrett, Pulitzer Prize Winning Science Journalist; Melanne Verveer, First U.S. Ambassador-at-Large for Global Women's Issues; Marie Therese Royce, Senior Director of International Affairs, Alcatel-Lucent (Presently Asst., Secretary of State for Education and Cultural Affairs, Laura Bush, Former First Lady of the United States and Doris Buffett, Founder and President, The Sunshine Lady Foundation.
AWIU is honored to present the Internationalism Award to Hon. Ertharin in Los Angeles, CA at AWIU's annual signature event, International Women of Courage Celebration in collaboration with the U.S. Department of State in late March 2019 to commemorate International Women's Month. AWIU, a national non-profit has been at the forefront of citizen diplomacy for over 50 years, building bridges of understanding, goodwill, and cooperation among women leaders throughout the world.
Written by Diane Mitchell Henry