AWIU Conversations: Saturday, November 6, 2021
Shlama Foundation:  Preserving the Cultural Heritage of Assyrian Chaldean Syriac People of Northern Iraq
By Betsy Richman | December 19, 2021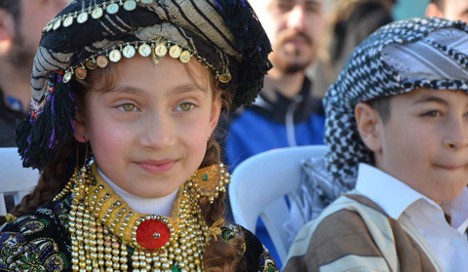 The folkloric costumes that the Shlama Foundation is producing in Northern Iraq are breathtaking. The colorful and heavily embroidered tunics, headpieces, jewelry, and shawls are worn by men, women and children for weddings, religious holidays, and special occasions. Each village has its own styles and motifs, in a tradition that is centuries old.
An NGO based in the Ankawa-Erbil region of Northern Iraq, Shlama is dedicated to helping the Assyrian Chaldean Syriac people prosper in their ancestral homeland. Most people in the U.S. know this area as Kurdistan, where the population is 95 percent Kurdish. The post-2003 Iraq War and the Syrian Civil War, which began in 2011, have displaced much of the Assyrian community from their homeland, while also decimating residences, churches, and public facilities as a result of ethnic and religious persecution at the hands of ISIS.
In 2021, AWIU provided Shlama with a grant to teach local women to sew this traditional clothing, for which there is a huge local demand. "Our goal is to preserve precious indigenous traditions that have been threatened through heavy destruction under ISIS, and to create a sustainable economic livelihood for women in the area," says Shlama Foundation co-founder Evette Shahara.
Participating in the AWIU Conversation were members Holly Clearman, Judith Jakaitis, Sharon Kolby, Joanne Kumamoto, Chun-Chieh Lin, Patsy Mertz, Gayle Morin, moderator Eunice Reddick, Barbara Rubio, Maggie Sabbag, Laura Schuldt, Pamela Hillings Tegtmeyer, and Jo Ann Troha. Shlama was represented by three of its board members: Evette Shahara, Raneen Qasha and Noor Matti.
"In November, 2021, we started with one seamstress instructing a class of eight to fifteen women. The project will last three to four months," Evette said. Once the women are trained, they will train other women in nearby villages, using videos and photographs to be created during the first class, creating a lasting legacy of resources and learning opportunities for future generations.
"We will sell costumes locally, primarily through Facebook and the Instagram accounts of the costume creators," Evette explained. "Because there is no international shipping here, we will sell to the diaspora community through the same platforms, with visitors picking up the costumes when they travel home." There are plans for a U.S.-based website in the future.
AWIU member Chun asked the Shlama team how they would distinguish themselves in a competitive arena. Noor Matti's response brought a communal laugh: "Competition would be a dream. That would mean that this tradition does not die. We hope Shlama sparks other people to do it!"
To learn more, visit https://www.shlama.org