Highlights from AWIU's 12th Annual International Women of Courage Celebration
IWOC Honorees and AWIU Members at the 2019 IWOC Celebration
American Women for International Understanding (AWIU) presented The 12th Annual International Women of Courage Celebration on March 19th, 2019 at the Jonathan Club in Los Angeles.
Ten extraordinary women from around the globe were honored for their courageous leadership in advocating for peace, justice, women's equality and human rights, often at the risk of their own safety and freedom.
The IWOC Award and AWIU's IWOC Celebration
Established in 2007, the Secretary of State's International Women of Courage (IWOC) Award honors women who have exemplified exceptional courage and leadership in advocating for human rights, women's equality and social progress around the globe. The 2019 IWOC Awardees traveled to the United States for an award ceremony at the State Department in Washington, DC on March 7th, 2019 and then had an opportunity for cultural exchange through the International Visitors Leadership Program. The honorees completed their stay in the U.S. at AWIU's International Women of Courage Celebration (IWOC Celebration) on March 19th, where AWIU presented each honoree with a grant to continue her vital work in her home country.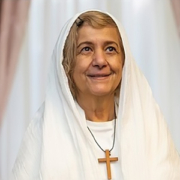 "Each one of you is a hero. Give it time to think how you can get this hero out to serve the world," stated IWOC Awardee Magda Gobran Gorgy. "Mama Maggie" is the founder of a non-governmental organization in Egypt that serves the most impoverished urban slums and rural villages regardless of their color, creed or faith.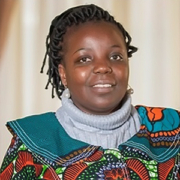 Fellow IWOC Awardee, Anna Aloys Henga, a human rights lawyer from Tanzania, affirmed Mama Maggie's call to action: "This award has fueled me and my colleagues and my fellow awardees even more." Ms. Henga has dedicated her entire professional career to advancing human rights in Tanzania, with a particular focus on women and children.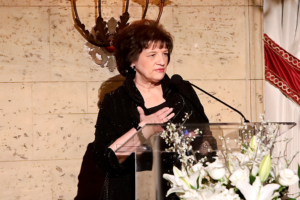 Pamela Pryor, Senior Advisor in the Office of the Under Secretary for Civilian Security, Democracy and Human Rights, declared as she introduced the 2019 International Women of Courage:"I firmly believe that women's empowerment is the key to promoting international peace and security."
In addition to honoring the IWOC awardees, AWIU recognized the significant contributions of three American women.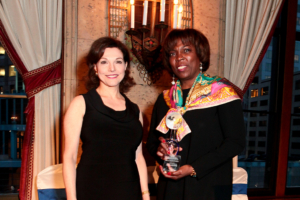 The AWIU Internationalism Award
AWIU presented the 2019 Internationalism Award to the Honorable Ertharin Cousin. An expert on food insecurity and hunger, Ms. Cousin has served as U.S. Ambassador to the UN Agencies for Food and Agriculture in Rome, as well as Executive Director for the World Food Programme. She was recognized for her commitment to the disparities of hunger and her advocacy for long-term solutions worldwide.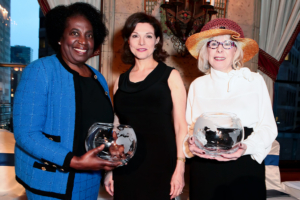 The Bernice Behrens Founders Award was presented to long-time AWIU members, Diane Mitchell Henry and Robin Winter Odem. Ms. Henry was honored for her work in the governance of AWIU and the enhancement of its mission, including her role in providing opportunities for young women in the D.C. area. Ms. Odem was honored for her contributions to the governance of AWIU and her dedication to women's issues, as well as for her role at the chapter level in promoting woman to woman understanding.
The State Department Award Ceremony
First Lady Melania Trump, Secretary of State Pompeo with the 2019 IWOC Awardees
On March 7th, Secretary of State Pompeo hosted the annual IWOC Award Ceremony at the U.S. Department of State to honor 10 extraordinary women from around the world. First lady of the United States Melania Trump delivered inspiring remarks at the ceremony. Following their stay in D.C., the IWOCs traveled individually to cities throughout the United States.
"We celebrate here today with all of you who work for democratic rights and equality, but also who work against oppression and against prejudice every day of your lives. To all of you in your journey for a better future, I hope that you know that you will always have a friend in the United States of America. You are truly women of courage." Former Secretary of State Condoleezza Rice, Founder, IWOC Award Program, at the 2007 IWOC Ceremony.
AWIU's 12th Annual International Women of Courage Celebration was held in downtown Los Angeles and attended by representatives from the US Department of State, members of the global diplomatic corps, Southern California business and community leaders, and AWIU members from across the country. It was a fitting culminating event for these extraordinary Women of Courage to be honored, appreciated and celebrated.
The 2019 International Women of Courage with Deloitte Volunteers at the IWOC Celebration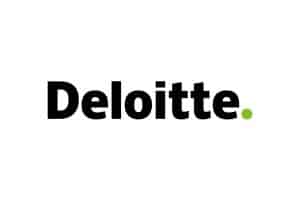 AWIU acknowledges and deeply appreciates Deloitte's ninth consecutive year as the Global Leadership Sponsor of the IWOC Celebration. In addition, AWIU is grateful for the essential support provided by the team of helpful Deloitte volunteers the night of the Celebration and beyond.
AWIU thanks all its generous sponsors of the 2019 International Women of Courage Celebration
Global Leadership: Deloitte
Freedom and Equality: Hahn & Hahn LLP, O'Melveny, The Walt Disney Company, Wells Fargo
Empowerment Through Education: Ariel Investments, JAMA, Northwestern Mutual,
Providence Foundations Southern California, UCLA Anderson School of Management
Women for Others: U.S. News & World Report
Media: Shaman Design