Destined for Diplomacy  
By Betsy Richman | December 19, 2021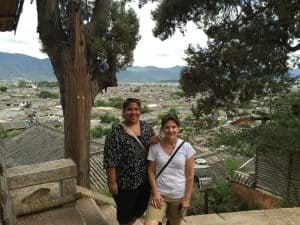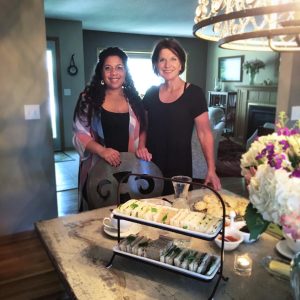 Britt Robinson, 28, was destined for a career in diplomacy. "As a child, I was obsessed with the Disney movie, 'Mulan,' so when I was 12, my mother signed me up for Sen Lin Hu, a two-week Chinese immersion summer camp in northern Minnesota. I became obsessed," she says.
This led to undergraduate work in Asian Studies at the College of Saint Benedict in Minnesota. Following graduation in 2016, Britt took a temporary assignment with Liberty in North Korea, an organization that runs  a modern day"underground railroad" through China to help North Koreans refugees, eighty percent of them female and have experienced some form of sex or labor trafficking. "Most of the Korean women I worked with were sold off to Chinese men, had children, and now their children are stateless," she explains.
Also with Liberty in North Korea, in 2018, Britt was given a six-month internship in Los Angeles, where she lived in a company house that "would have made a great reality television show." She subsequently backpacked through China and Korea (with her mother joining her in China for three weeks), and conducted research in Japan.
In that same year, Britt went to Seoul, South Korea for a month as an American delegate to the Korean American Student Conference, where she led a multinational team in researching and drafting international oil spill data collection and sustainability policies. Her team's policy took first place at the final forum, and Britt was unanimously nominated by her peers to serve as the 2019 KASC Executive Committee Chair.
In 2019, Britt returned to school (George Washington University, Elliott School of International Affairs) for a master's degree in Korean Affairs and Global Gender Policy. Britt speaks intermediate Korean and Mandarin Chinese, which she attributes to her dyslexia, "pictorial languages with characters, not letters, work well for me." She graduated this past May, 2021, and is currently job-hunting.
Notwithstanding "Mulan," when did she know she wanted a career in diplomacy? "When I saw 'Hamilton.'" Living in Washington, D.C. influenced her as well. "I soaked up the policy side of Asia in graduate school," she says. "I'm torn between policy and creative work, although I think I'm better at social services." She hopes to work in a non-profit that deals with gender issues, and to that end, took the foreign service test.  
AWIU became the beneficiary of Britt's passion and knowledge in January, 2020. "My university works with the DACOR Foreign Service Officer Mentorship Program, and I was paired with Tatiana Gfoeller for mentoring," she explains. First as a Passport, and now as a full AWIU member, Britt has made herself indispensable on the Communications Committee, where she coordinates digital marketing, provides graphic design, manages social media, develops content, and is a moderator and presenter for the Conversations webinars.
Britt considers her mother her biggest inspiration. "My mother took Chinese because of me – she's one of those rare parents who learned from her child by parenting," she says. Britt's interest in non-profits and social justice also come from Mom, who is active in the League of Women's Voters.