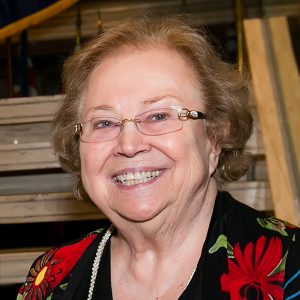 A Special Person Remembered 
&

 A Beautiful Life Honored

July 4, 1928 – October 11, 2020
AWIU Member for Over 3 Decades
Martha Atherton's own life story, one of joys and sorrows and vast, enriching experiences made her an excellent Ambassador for women's rights and human rights for many decades. So many have inherited the spirit of doing what one can to change women's world, no, to change everyone's world, from Martha Atherton. Marty's journey became one for generations of women to witness; she mentored, she inspired, she led with grace, she opened herself to encounters with countless women in countries everywhere and she smiled…always.
Marty Atherton, often with her husband Bob at her side, made the mission of AWIU "to build bridges of understanding" her mission. The Athertons subscribed to a world view, one that was inclusive and visionary and kind. And, of course, there was humor. Bob Atherton attended so many AWIU events that Marty, with a twinkle in her eye, proclaimed him "Head of AWIU Men's Auxiliary". How we will miss Martha Atherton, but her legacy will remain. Her influence on this organization is actually incalculable. 
We will miss her beautiful smile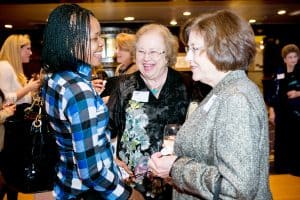 Marty Atherton's philosophy of contributing to international understanding through her personal, professional and collegial relationships and of "paying it forward" drives much of our AWIU mission today. As our organization continues to move forward and continues to close the gap between cultures and continues to encourage social understanding and continues to encourage religious tolerance, Marty remains a part of who we are collectively and who we are as individuals.
Video Interview With Martha Atherton