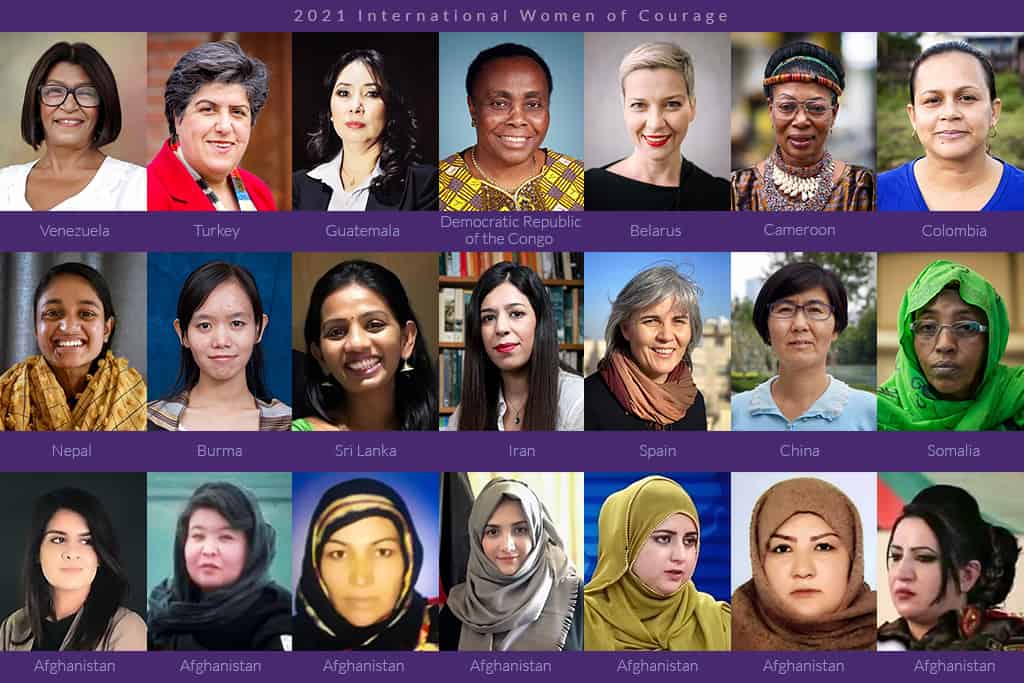 2021 International Women of Courage Award Winners
2021 Honorary Posthumous IWOC Group Award Winners
2021 Honorary Committee Members
---
Honorary Committee Chair
Dean and Walter H. Annenberg Chair in Communication
USC Annenberg School for Communication and Journalism
---
Managing Board Member/Co-Head of Talent Department, ICM Partners
---
Vice Chair of External Diversity, Equity, and Inclusion, Deloitte
---
Group President, Griffith Foods North America
---
CEO/President, International Visitors Council of L.A.
---
Executive Managing Editor and VP, JAMA and JAMA Network
---
Managing Director, Oaktree Capital
---
ABC News Correspondent
Forbes Magazine 30 Under 30
Ambassador Melanne Verveer
---
First U.S. Ambassador-at-large for Global Women's Issues
Founding Director of the Georgetown Institute for Women, Peace and Security
---
Nancy Annick
Mary Schammel
Janice Trojan
---
Lian Dolan
Ingrid Johnson
Leslie Maxfield
Sarah Shelton
---
Susan Chandler
Earlie Douglas
Amb. Tatiana Gfoeller
Onma Lwin
Annette Madden
Diane McGlinchey
Cynthy Moffatt
Pooja Pama
Julie Pantiskas
Laura Pollard
Madvi Raya
Maggie Sabbag
Inez Sharp
Jo Ann Troha
Carol Ann Warren
Janey Wetzel
2021 IWOC Virtual Celebration Sponsors
Thank you to our Generous Sponsors
Global Leadership Sponsor
---
AWIU thanks Deloitte for eleven consecutive years as lead sponsor for The International Women of Courage Celebration
At Deloitte, diversity, equity, and inclusion is critical to our business: it enables us to leverage all that makes each one of us who we are to deliver the most valuable perspectives to our clients, and the most engaging experiences for our colleagues. We are proud of our history, and share our discoveries with the marketplace and our clients. Leadership commitment and innovative thinking has helped land us on a number of best-places-to-work lists, including Working Mother's 100 Best Companies, the Human Rights Campaign's Best Places to Work for LGBT Equality, the FORTUNE Best Workplaces for Women, and the FORTUNE 100 Best Companies to Work For ®.
Freedom and Equality Sponsors
---
From humble beginnings as a cartoon studio in the 1920s to its leading role in the entertainment industry today, Disney proudly continues its legacy of creating world-class stories and experiences for families and fans around the world. Through our stories, we seek to make the aspirational relatable, and we are inspired by the 2021 awardees and honored to support The 2021 International Women of Courage Virtual Celebration of the Secretary of State's International Women of Courage Award.
Empowerment Through Education Sponsors
---
Drawing on over 150 years of experience working with the world's leading businesses, entrepreneurs, and institutions, we mobilize our people, culture, technologies, and ideas to advance the success of our clients, broaden individual prosperity, and accelerate economic progress for all.
2021 IWOC Virtual Celebration Patrons
Thank you to our Generous Patrons
Empowerment through Education
---
Denise Hammett Bieker
Susan Chandler
Ingrid Johnson
Jerilyn Castillo McAniff
Cynthy Moffatt
Marie Queen
Margaret Heflin Sabbag
Janice Meagher Trojan
Jane Mursener Wetzel
---
Kathleen Huston
Pooja Chandra Pama
Barbara Rubio
Mary Machado Schammel
Laura D. Schuldt
---
Lian Dolan
Sarah Dusseault
Ambassador Tatiana C. Gfoeller
Betty J. Houbion
Mary Kresky
Carole J. Lewis
Lucia A. Logan
Deborah Marriott
Julie Power Pantiskas
Providence Saint Joseph Foundation Burbank
Eunice Reddick
Gretchen Zelek
---
Debra L. Beck
Diane M. McGlinchey
Sherry Lee Mueller
Marsha Niazmand
Awareness and Appreciation
---
Lorrie Bartlett
Kristin Ceva
Janice Colom
MaryRose Courtney
Earlie B. Douglas
Merry Lee Eilers
Annette Flanagin
Patricia Haley
The McAniff Family
Margaret Mgrublian
Kendra Miller
Robin Winter Odem
Laura Li Pollard
Ann Sunshine
Amy Wohl
Patrons through 5/19/2021